2023/2024 School Year Registration
Join us for our 2023/2024 school year! Early Start Programs are eligible for the new Childcare Subsidies and we are excited to pass these savings onto our families at Early Start.

Find out what makes Early Start so special!

 Learn more on this Government Program and how to apply at: https://www.alberta.ca/child-care-subsidy.aspx
Click to Register

Our weekend programs at Early Start are a fun, safe place for your child to play, explore and meet friends.  ALL weekend camps incorporate Early Start's unique Social Emotional Curriculum and are designed to promote social development, build on friendship skills, increase fine motor development and are powered by PLAY!
Programs are lead by Certified Early Childhood Educators.  Potty training is NOT required. Ages 22 months - 5 years.

Click for Information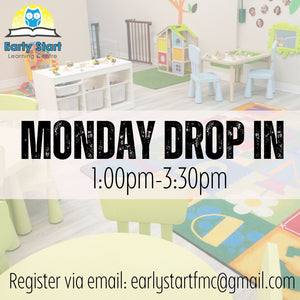 Monday Afternoon Drop-In Program.
Are you looking for some extra free time, have an appointment or simply want some downtime? We are now offering drop-in classes on Monday afternoons. Our afternoon class runs from 1:00 pm – 3:30 pm. We have 5 spots available.  Spots will be available until noon every Monday or until they are sold out. All you need to do is send us an email (earlystartfmc@gmail.com) indicating the date you would like to drop in and we will look after the rest.
2023/2024 Important Dates
September 2023
Sept. 4 - CLOSED for Labour Day
Sept. 5/6 – 1st Day of Classes for AM MILESTONES PROGRAM
Sept. 11/12 – 1st Day of Classes for FOUNDATION, GRADUATES & ALL PM PROGRAMS

October
Oct. 9 – CLOSED for Thanksgiving
Oct. 30/31– Halloween Celebrations

November
Nov. 10 – CLOSED for Remembrance Day

December
Dec. 20/21 – Christmas Celebrations
Dec. 22-Jan 5 – CLOSED for Winter Break

January 2024
Jan. 8/9 Classes Stat


February
Feb. 13/14– Valentine's Day Celebrations
Feb. 19 – CLOSED for Family Day
Feb.26-Mar.2 CLOSED for Teachers Convention

March 
Mar. 14/15 – St. Patrick's Day Celebrations
Mar. 27/28 - Easter Celebrations
Mar. 29 - CLOSED for Good Friday

April 
Apr. 1 – CLOSED for Easter Monday

May
May 9/10 – Mother's Day Celebration
May 20 – CLOSED for Victoria Day

June 
June 12/13 – Father's Day Celebrations
June 14 - Graduation Celebration
more information to come!
June 21 - Last day of Class
This section doesn't currently include any content. Add content to this section using the sidebar.